The INSPIRE fellows of the 2017 class took part, on 23 and 24 November 2018, in the second "Triple-i" Weekend, organised in Strasbourg.
This weekend, dedicated to interdisciplinarity, intersectorality and international, was an opportunity for the doctoral students to discover different aspects of the economic, scientific, political and cultural heritage of the Alsatian metropolis.
European Parliament
What could be more natural for a project financed by the MSCA (Marie Sklodowska -Curie Actions) – COFUND programme of the European Union, than to visit one of its most emblematic bodies, the European Parliament?
The doctoral students were able to take advantage of the calm prevailing in the Strasbourg European Parliament to visit this high place of European democracy, and to learn more about the voting and decision-making processes. The discovery of the hemicycle was the highlight of this visit, and allowed the doctoral students to better understand the role of the European Parliament Members, in the run-up to the European elections on 26 May 2019.
Competitiveness clusters and electricity in Strasbourg
Hosted in the premises of Electricité de Strasbourg, the group then had the opportunity to discover three institutions working to support innovation in biomedical sciences, construction and geothermal energy.
BioValley France competitiveness cluster:
Mr Mahamoudou Diop, NextMed project manager at Biovalley France, presented the initiatives in favour of innovation in the field of biomedical sciences, and how this competitiveness cluster works to develop synergies between public laboratories and private companies, in conjunction with the region's hospitals.
Fibre-Energy competitiveness cluster:
Mr Jean-Luc Sadorge, Director General of the Fibres-energy cluster, then presented how his cluster accompanies the actors of the building industry, and in particular the importance given to the energy transition and the circular economy.
Energy production by geothermal energy – Electricité de Strasbourg
Mr. Albert Genter finally presented the deep geothermal projects, which is a renewable, constant, non-polluting energy source with an attractive price that is deindexed from fossil fuels.
Alsace, with its exceptional underground hot water potential, has a real ecological and energy opportunity to produce local, clean, inexhaustible and low-cost energy. Highlighting the technical and societal challenges posed by such a technology, Mr. Ganter was able to show how scientific research enabled the region to meet the challenges of energy transition.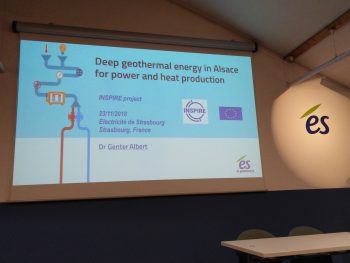 Visit of the city
During this weekend marked by the opening of the Christmas market, doctoral students were able to marvel at the architectural heritage of the big island and Petite France, enjoying a guided tour through the city.
Thus, these two intense and friendly days, made of exchanges and discoveries, were a great opportunity for the Inspire fellows to discover a city at the forefront of the economic, scientific and cultural challenges of the 21st century.